What is a Casting Match?
---
A casting match is an 'open to the public' notice discovered through a local or national publication or website, available as a match on your Latitude profile. We refer to these as "Casting Matches" which are both paid and nonpaid local opportunities for both modeling and acting. Casting matches are located on your Latitude profile and require frequent submissions to increase the chance for a call-back audition.
---
What should I wear to an audition?
---
Be sure to fully read the details on the casting notice. If there is an address and time specified, it is recommended to attend the casting call early. Keep clothing simple with neutral colors. Fitted jeans, and a white, fitted top are always best. Keep hair away from face.
---
What should I bring to an audition?
---
Unless specific details on what to bring are posted, it is recommended to always bring a printed photograph or comp card to a casting call.
---
What if I can't attend a Casting Match?
---
If you cannot attend a Casting Match, don't worry! You always can pick and choose the Castings you wish to attend depending on your schedule.
---
I'm traveling, does Latitude partner with a local hotel?
---
We are happy to partner with the Courtyard Hotel by Marriott - Times Square, who offers a discounted rate to our talent. Contact representivate, Sharon, at the hotel directly for the "Latitude Talent partnership rate."
COURTYARD BY MARRIOTT/TIMES SQUARE WEST
307 W. 37TH STREET
NEW YORK, NY 10018
Booking: 646.590.1002
www.marriott.com/nycet
To access other Latitude Benefits, click here.
---
How do I login to my profile?
---
To login, visit app.latitudetalent.com with your email and password assigned. If you forgot your password, click the "forgot password tab" and follow the prompts to reset. For a short video introduction on using your Latitude Profile, click here
---
How do I upload Photographs and Download a Comp Card?
---
To upload photographs, click the "Your Profile" Tab. Under "Your Images" upload 5 photographs from your phone or computer.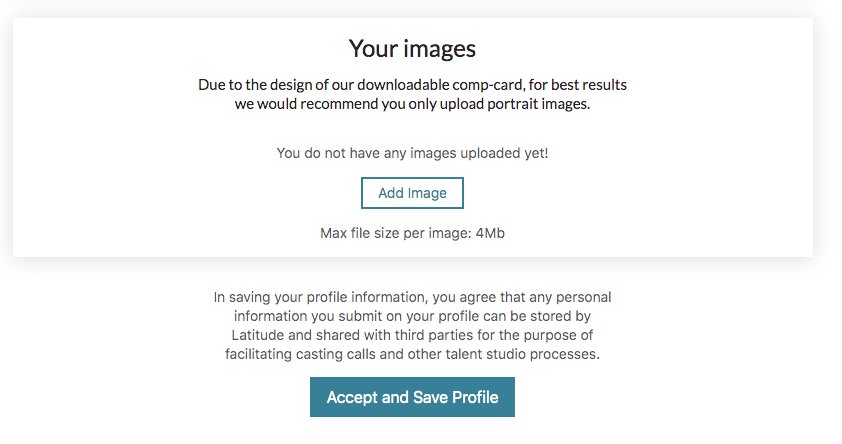 If you are having problems uploading, try making the image smaller. For best results we recommend you only upload portrait images.​ ​Be sure to rotate and crop the images prior to uploading. When photographs, along with your information is entered and saved, click the "Download Digital Comp Card" Tab on the top right corner of the screen. Be sure to save your comp card which should be used to apply to castings uploaded on your profile.
It is important to update and upload photographs and measurements frequently to ensure they are accurate.
---
How to Submit to Casting Match?
---
Castings that match your profile will automatically appear upon successfully logging in.
To submit to a casting, click the "Apply Here" button under the project details; this will automatically populate with your email address to allow you to contact the casting client with your submission. Attach your comp card when applying to castings.
You should first upload 5 photographs, generate a comp card and download to your phone or computer. If you are waiting on a test shoot, you should upload general photographs in the meantime. If your test shoot is completed, you should use your new photographs on your profile.
It is important to login and submit to castings matches consistently. This increases your chance of success.
---
I can't login, how can I get a new password?
---
If you are having trouble logging in, click the "Forgot Password" link at the sign in page. Be sure to use the email address linked to your account. Directions to reset your password will be emailed to you if your account is active.
---
What is a private casting?
---
A private casting is when a direct request from a client, casting director, production company, industry professional or breakdown is received by Latitude. This is provided to them complimentary in order to give our talent the best shot at receiving more exposure to clients. We work with the client to go through our database matching criteria based on the request. Once these talents are located, a digital package is emailed to the client. Once the client has made their choices, our talent are contacted to inform them with information about the project.
While you have access to casting matches on your profile, Latitude may connect your profile to private casting breakdowns on our end if available. If you are requested for a project, we follow up directly via email.
---
What is a video audition?
---
A video audition is just that, an audition taped on video! More frequently, especially for out of state castings, video auditions are being requested rather than in person.
To make a video audition, you should film it in a room clear of distractions. Typically a script is provided to film the scene. It is always best to slate before recording. "Slating" is essentially a short introduction and consists of saying your full name, location and title of the project you are preforming. Using your phone to record is perfectly fine.
---
How often should I login and submit to castings?
---
It is important for to login at least twice a week to check and submit to new casting matches. Latitude will not remind you when there are new project updates, so logging in and submitting out is the best way to find projects. Since castings are updated constantly for different talent, you will not receive a reminder every time a new match is on your profile. We recommend picking days (ex. every Monday and Friday) to submit out. Look beyond the pinned castings and submit to everything on your profile.
---
Is it okay to bring a guest with me to audition?
---
If you are under 18, it is fine, and often required to bring one parent or guardian with you. It is not recommended to attend with a guest if you are over 18 years old.
---
Is landing an audition easy?
---
In this industry the client has the right to select the talent that best suits the project.
Ultimately, the client makes the final selection.
It very important that talent follow a routine and submit to casting posts as they appear; this increases your chance of landing a callback or audition.
---
I want to change my look, should I update my comp card?
---
Anytime you change your look, you should update the photographs on your comp card. Not all photographs have to be professional. Since your portfolio is digital, you are able to upload photographs on demand and create your comp card to use for submission.
---
I got contacted from a casting, what's next?
---
Yay! It's exciting to finally get contacted from a castings. The first thing to do is reach out to us directly to verify the project and we could steer you in the right direction. Second, wait to see what the casting entails. Since castings are from third parties, they typically will follow up with any details. Remember, never accept a check prior to booking a project. A talent only gets paid once they complete the role in person.
---
Should I wait to upload professional photographs?
---
Nope, if you are waiting on professional photography, use standard photographs on your digital comp card.
---
I have a test shoot, how should I prepare?
---
A photography test shoot is a way to start or build up a portfolio. If you have a complimentary test shoot, watch the 60-second preparation video here.
---
How can I submit out to agencies?
---
To access The Directory which includes over 100 international modeling agency contacts, click here.
---
How do I stop my monthly maintenance membership?
---
You can easily stop and deactivate the recurring monthly membership fee at any time, by sending an email to info@latitudetalent.com or here. Please include your full name and reason for deactivation of your monthly maintenancemembership. Deactivation requests are effective with 30 days notice. A confirmation email will be sent upon receipt of notice.
---
I need more help, how can I contact Latitude?
---
We are always here for your assistance. Simply send an email to info@latitudetalent.com for any questions or call us at 1-888-293-1704 ex. 2
---
Does Latitude offer benefits with companies?
---
Yes, Latitude has established cross marketing with companies to offer talent the chance to receive benefits and services from local merchants. These benefits vary depending on the company offering them but examples include discounted spa treatments, discounted hotel accommodations and more. To access benefits, click here
---
What is a Comp Card?
---
A composite card, also referred to as a "comp card" is a models or actors resume and includes 5 photos as well as stats, measurements and contact information. We provide our talent with a digital and printable comp card as part of our service. The digital composite card can also be emailed to casting directors, photographers or any industry professional through a talent's profile in one easy step.
---
---